UCSF Brings Strong Showing to the 2017 International AIDS Conference
August 15, 2017
Researchers and clinicians from the University of California, San Francisco, and affiliated institutions, were once again well-represented at the International AIDS Conference (IAS2017), held in Paris this year from July 23-26.
The interface of HIV cure and cancer research, the persistence of HIV reservoirs and the pursuit of a cure and vaccine, advances in pre-exposure prophylactics (PrEP) and antiretroviral therapy (ART), and renewed interest in coordinated care and treatment were at the forefront of conference presentations attended and led by clinicians, behavioral, and basic science research experts.
Broadening to global perspectives, effective implementation and large-scale community-based test and treat campaigns dominated conversations and sessions.
One of the most lauded pre-conference activities led by UCSF investigators included the HIV Cure and Cancer Forum, co-chaired by Dr. Steven Deeks. Dedicated to exploring the similarities between cancer and HIV research, particularly as they pertain to vaccines and cure, the forum focused on accelerating research on immunotherapy and epigenetic modification as potential curative strategies and creating an environment to foster collaborations and merge the HIV cure and cancer disciplines.
As Dr. Sharon Lewin of Monash University, co-chair of the event, told Health e-News, "What we're trying to do here is, in the cure context, for us to stop treatment and [see that] the virus doesn't rebound; something we call remission – which is actually from the cancer world. Cancer is much the same in some ways: there is initial treatment where you remove the bulk of the tumor and then often the doctor says you're in remission…and the cancer often returns." (Full program can be found here.)
In tandem with these discussions was the news of a South African child who has sustained viral suppression without ART for 8.5 years, after receiving a 40-week regimen of treatment at 8 weeks. While the results were celebrated, many presentations in the subsequent days focused on the HIV reservoir stressed that this did not mean the child was cured. Dr. Anthony Fauci of NIAID, in a detailed talk, "Challenges and Opportunities in HIV Science," highlighted the struggles around the search for a cure – and noted that it is very possible for a resurgence in the child's viral load to emerge with the nudge of any number of immunological triggers. This is supported by what we have seen in adults who have sustained viral load suppression for periods of time after suspending treatment, and then ultimately rebounded.
A case example of these struggles led by UCSF researchers was presented by Dr. Tim Henrich, who explained the results of treating patients with hyper-acute HIV infection (Fiebig stage 1 of infection). In this revealing instance, the patient started treatment approximately 10 days after infection and stayed on ART for 34 months, reaching a state of undetectable virus before interrupting treatment. Unfortunately, approximately 8 months later, the viral load rapidly escalated to levels mimicking acute infection. As Dr. Mike Busch noted, while the results may be disappointing, the initial suppression "demonstrates the need to add additional cure interventions optimally focused on persons treated early who have the lowest viral reservoir, and hence be more amenable to eradication of functional cure (prolonged remission or relapse of virus but very low level ongoing replication)."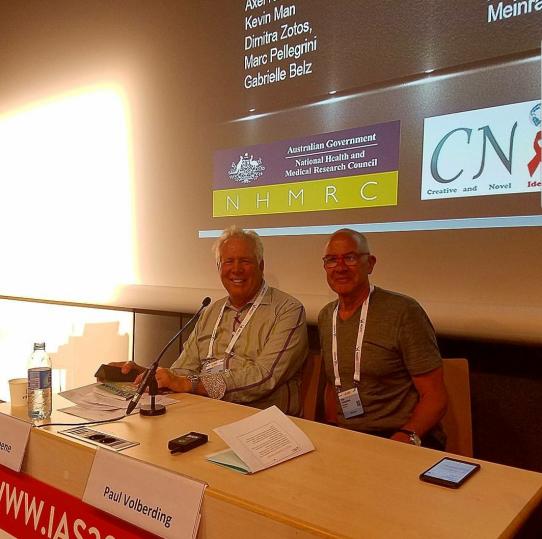 As usual, advances in ART and PrEP were well-received at this year's conference. The findings of recent ART trials were presented via two oral abstracts sessions, the second of which was co-chaired by UCSF physician and Ward 86 medical director Dr. Monica Gandhi. Posters and discussions dedicated to topical agents, injections versus pills and infusions, and on demand oral TDF/FTC for PrEP, are a small sample of the exciting results of community-based and clinical interventions. In a session led by UCSF and Gladstone Institute investigator Dr. Robert Grant, presenters highlighted the findings of perceptions and acceptability of PrEP among high-risk populations and the impact of vaginal microbiota on the effectiveness of PrEP. The findings further emphasized support for widely accessible and on-demand PrEP, and emphasizes the need for HIV prevention products that work in women with vaginal dysbiosis.
Dovetailing with the PrEP presentations was the effort dedicated to coordinated prevention and treatment. Dr. Susan Buchbinder of UCSF and SFDPH, who presented San Francisco's 'Getting to Zero' efforts during a session on eradicating HIV in high-burden cities, praised the tone of the symposia in saying, "I was excited to see the coordinated efforts being made at city- and country-levels to roll out treatment and prevention in a more comprehensive way."
Coordinated care and the cascade is of course not limited to domestic settings, and implementation science globally dedicates significant effort to these issues – with USCF researchers again at the forefront. Dr. Elvin Geng presented 'Personalizing Public Health? Adaptive Interventions for Retention in HIV Care,' during the workshop session, Implementation Science for HIV/AIDS: What is it?
Post-discussion, Dr. Geng noted, "I think we are a critical moment when we need to make the case to the scientific establishment that implementation science is a rigorous enterprise, while not abandoning the critical commitment to relevance in diverse real world settings."
One of the most well-known UCSF global health studies, the SEARCH project led by Dr. Diane Havlir, is proving to be a stellar example of how utilizing implementation science techniques to roll-out and maintain a test and treat campaign on a massive scale can have truly impressive results. With over ten poster presentations and discussions highlighting SEARCH outcomes, the study's results played an instrumental role in the exciting news in a recent UN report indicating that for the first time ever, more than half of HIV-infected persons in the world are on ART. Dr. Havlir, well-versed in the co-morbidities present in developing country contexts, also co-chaired a session addressing HIV and TB, the findings of which emphasized that integrated HIV/TB care can be successfully implemented, which can improve the timeliness of TB diagnoses in high-risk individuals.
This of course is only a sample of the exciting research, clinical, and prevention and intervention work presented at IAS 2017. You can explore lists of poster presentations and discussions by UCSF researchers working on the SEARCH project, with the FACES team, and those who are CAPS affiliated. We encourage you to review the full program online, where many abstracts are now posted. You can also view the full slideshow of videos on the IAS Conference YouTube channel.
By Larkin Callaghan. Contact: [email protected]